[cs_content][cs_element_section _id="1″ ][cs_element_row _id="2″ ][cs_element_column _id="3″ ][cs_element_global_block _id="4″ ][/cs_element_column][/cs_element_row][/cs_element_section][cs_element_section _id="5″ ][cs_element_row _id="6″ ][cs_element_column _id="7″ ][cs_element_headline _id="8″ ][cs_element_gap _id="9″ ][cs_element_headline _id="10″ ][cs_element_text _id="11″ ][cs_element_gap _id="12″ ][cs_element_headline _id="13″ ][x_feature_list][x_feature_box title="Creating Connection" title_color="" text_color="" graphic="icon" graphic_size="60px" graphic_shape="hexagon" graphic_color="#ffffff" graphic_bg_color="rgb(29, 81, 163)" align_h="left" align_v="top" side_graphic_spacing="20px" max_width="none" child="true" connector_width="2px" connector_style="dashed" connector_color="#272727″ graphic_icon="handshake"]Establishing a graduate-level network of researchers from around the globe. Create a community of water leaders from diverse disciplines. Fostering unexpected connections between researchers.[/x_feature_box][x_feature_box title="Exploring Avenues" title_color="" text_color="" graphic="icon" graphic_size="60px" graphic_shape="circle" graphic_color="#ffffff" graphic_bg_color="rgb(29, 81, 163)" align_h="left" align_v="top" side_graphic_spacing="20px" max_width="none" child="true" connector_width="2px" connector_style="dashed" connector_color="#272727″ graphic_icon="binoculars"]Connecting researchers to industry opportunities during and after graduate school. Developing bi-directional relationships between industry partners and graduate students. Encourage multidisciplinary collaboration.[/x_feature_box][x_feature_box title="Showcasing Achievements" title_color="" text_color="" graphic="icon" graphic_size="60px" graphic_shape="hexagon" graphic_color="#ffffff" graphic_bg_color="rgb(29, 81, 163)" align_h="left" align_v="top" side_graphic_spacing="20px" max_width="none" child="true" connector_width="2px" connector_style="dashed" connector_color="#272727″ graphic_icon="chalkboard-teacher"]Provide a platform for researchers to showcase their work. Encourage accessible research related to water through social events.[/x_feature_box][/x_feature_list][/cs_element_column][/cs_element_row][/cs_element_section][cs_element_section _id="18″ ][cs_element_row _id="19″ ][cs_element_column _id="20″ ][cs_element_headline _id="21″ ][x_text_type prefix="We are " strings="Policy Makers|Scientists|Passionate|Engineers|Economists|Environmentalists|Conservationist|the Future" suffix="" tag="h5″ type_speed="50″ start_delay="5″ back_speed="30″ back_delay="2000″ loop="true" show_cursor="true" cursor="_" looks_like="h5″ class="cs-ta-center"][cs_element_card _id="23″ ][/cs_element_column][cs_element_column _id="24″ ][cs_element_image _id="25″ ][/cs_element_column][/cs_element_row][cs_element_row _id="26″ ][cs_element_column _id="27″ ][cs_element_counter _id="28″ ][/cs_element_column][cs_element_column _id="29″ ][cs_element_counter _id="30″ ][/cs_element_column][cs_element_column _id="31″ ][cs_element_counter _id="32″ ][/cs_element_column][/cs_element_row][/cs_element_section][cs_element_section _id="33″ ][cs_element_row _id="34″ ][cs_element_column _id="35″ ][cs_element_headline _id="36″ ][cs_element_text _id="37″ ][/cs_element_column][/cs_element_row][/cs_element_section][cs_element_section _id="38″ ][cs_element_row _id="39″ ][cs_element_column _id="40″ ][cs_element_global_block _id="41″ ][/cs_element_column][/cs_element_row][/cs_element_section][/cs_content][cs_content_seo]WatIF 2020 Graduate Conference website has moved, please find up-to-date information on our new website WatifKingston.ca
About WatIF
Our Vision
This conference is to inspire participants to boldly cross disciplinary, cultural, and geographic boundaries in an effort to broaden their understanding of the myriad interlinkages and meanings embodied by water as they lead societies toward a mutual goal: Building sustainability and resilience for uncertain water futures.
OUR Pillars
Creating ConnectionEstablishing a graduate-level network of researchers from around the globe. Create a community of water leaders from diverse disciplines. Fostering unexpected connections between researchers.Exploring AvenuesConnecting researchers to industry opportunities during and after graduate school. Developing bi-directional relationships between industry partners and graduate students. Encourage multidisciplinary collaboration.Showcasing AchievementsProvide a platform for researchers to showcase their work. Encourage accessible research related to water through social events.
Past Attendence
We are
Meet Our Team
Committee
0Graduate Students
0Professionals
0Universities
OUR STORY
The seeds of an idea were planted: WatIF was inspired by a local symposium held in 2013 at Queen's University in Kingston. The Water Research Centre (WRC) at Queen's University hosted an annual local graduate student symposium between Queen's University and the Royal Military College of Canada (RMC) to showcase research across the two campuses.  The 4th Annual Water Research Centre Graduate Student Symposium was the first organized by graduate students, including WatIF co-founders Donya Danesh and Sarah Thompson, WatIF2014 committee member Dan Lamhonwah, and a graduate student volunteer. After seeing the breadth and depth of water research simply within RMC and Queen's, this initial team of students realized how isolated they felt to their individual research and how disconnected they were from the early water research community as a whole (across Canada). Ms. Danesh, Ms. Thompson and Mr. Lamhonwah aspired to share the sense of community, unity, and inspiration they gained from this local symposium with other graduate students across Canada. The team also felt that an opportunity was needed for graduate students across Canada to share their water research across disciplines, so they decided to create a unique platform tailored specifically to students.
The seeds were given water to grow: In May 2014, a multidisciplinary group of 131 graduate students and 55 professionals from all provinces across Canada joined together at Queen's University to discuss challenges, solutions and opportunities for the future of Canada's water. Graduate students represented research from 23 universities from provinces across Canada. Non-student attendees represented industry, government, not-for-profits, NGOs, and academics. The outcome of WatIF was greater than the organizing committee could have ever imagined.
To join WatIF2020 please contact us.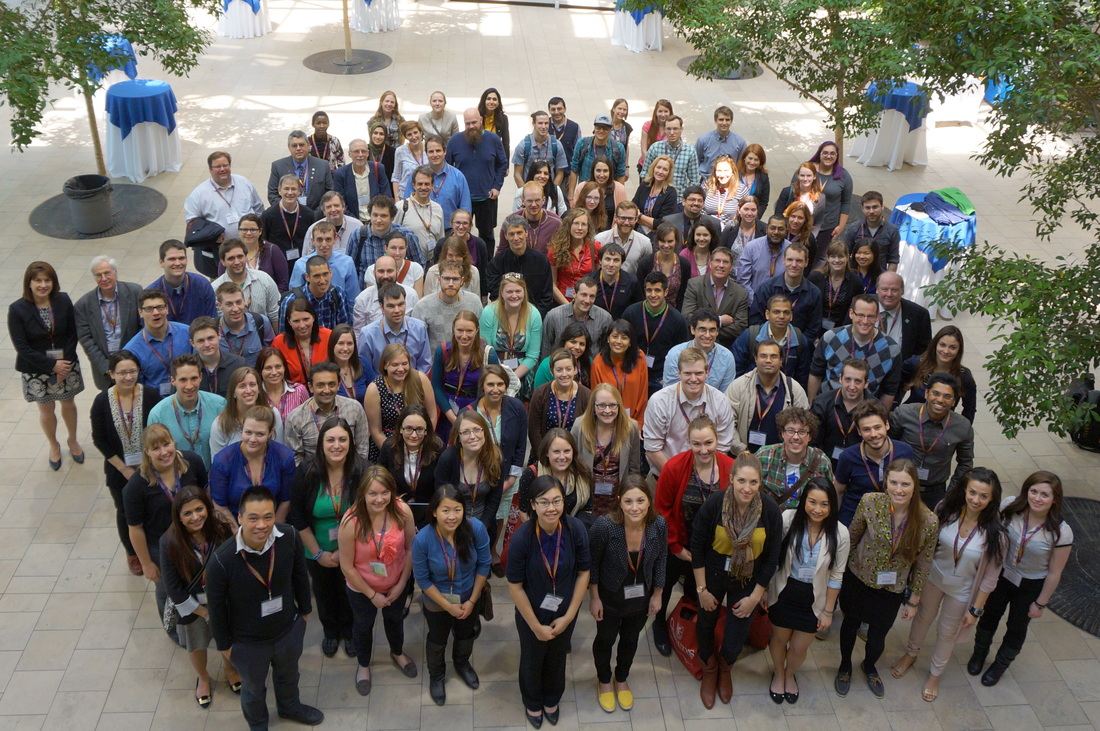 [/cs_content_seo]