WatIF 2020 Graduate Conference website has moved, please find up-to-date information on our new website WatifKingston.ca
As a volunteer-student run conference, WatIF is looking for various sources of funding with different levels of participation from partnerships and industry sponsorships. We are working hard to make the conference financially accessible to graduate students across the world, inline with our moral objectives. We strive to bring support from organizations across the corporate world; from industry and consult agencies, to NGO's and academic groups.
The Benefits of Sponsorship
01. Promote and Showcase:
You can promote your organization at a premier water conference and get exposure. Meet with the brightest growing talents in the water sector and meet potential future industry leaders/employees face-to-face. Gain access to the future faces of water research, policy, and activism by forging lasting, meaningful connections with our attendees. Finally, showcase your investment into the future of the world's water leaders.
02. Network and Connect:
WatIF is a great opportunity to connect with early water leaders across the world. WatIF is working towards creating a movement by "empowering the leaders of tomorrow for the future of the world's water" and this is your opportunity to connect with emerging leaders.
Become Involved
For more information on how to support WatIF 2020:
Contact Us
We greatly value our supporters and sponsors and are eager to help you benefit from this experience.
Email Us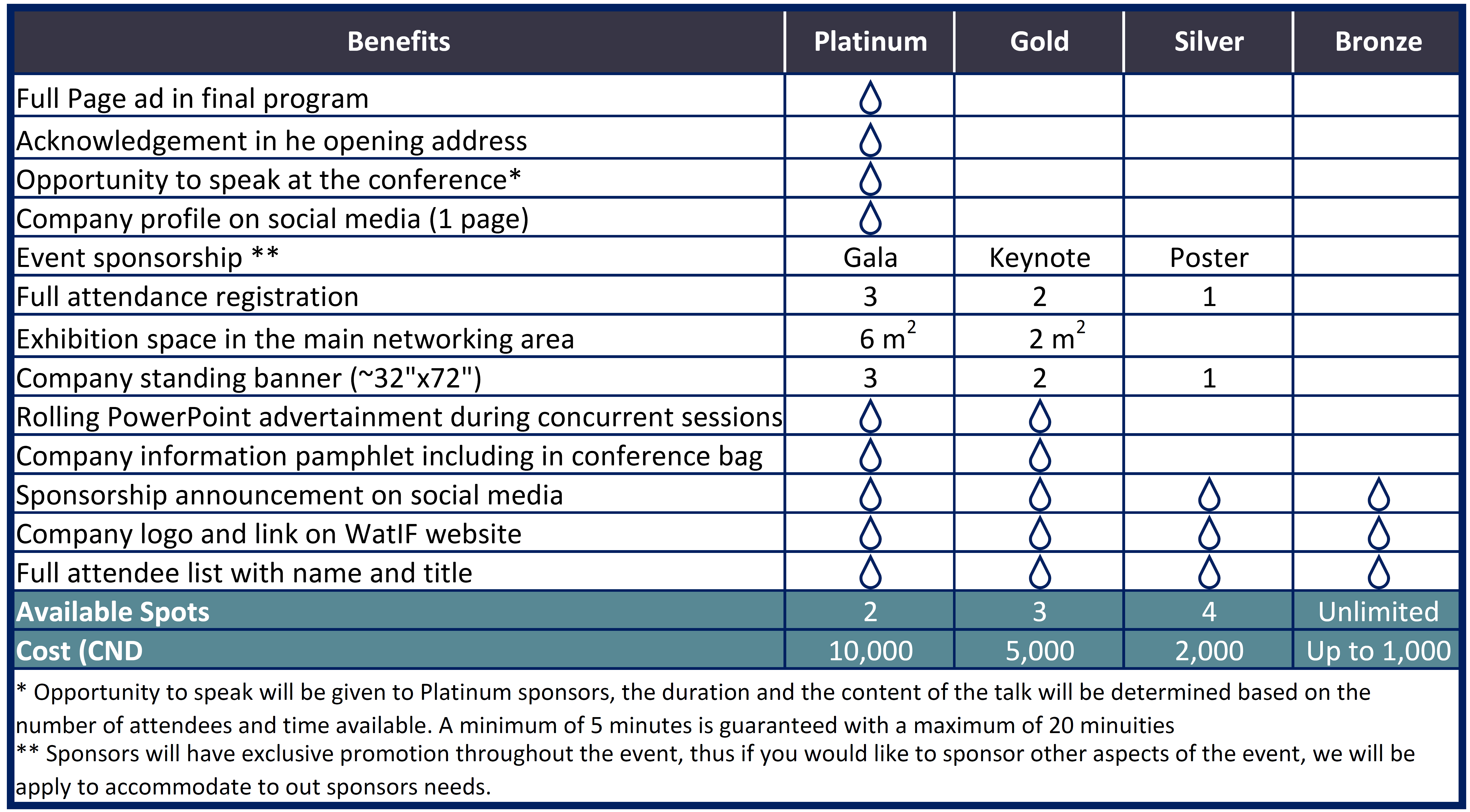 We value our sponsors and would like to give them opportunities to help empower future water leaders in any way that they feel possible. Therefore, we are happy to tailor our sponsorship packages to each and every individual sponsor to meet their needs. We would also like to provide other opportunities for our sponsors to help WatIF.
This Global Block does not have any content.