WatIF 2020 Graduate Conference website has moved, please find up-to-date information on our new website WatifKingston.ca
WatIF (Water Initiative for the Future)  is a graduate student-run conference that offers the opportunity to connect, collaborate, and share water-related research with an international community of leaders.
WatIF 2020 brings together graduate researchers, industry partners, and others who are addressing local and global water challenges from diverse perspectives.  The conference will be held in the newly opened Mitchell Hall at Queen's University, located in Kingston, Ontario, home to the Beaty Water Research Centre.
Striving to enrich participants' experiences, WatIF integrates stimulating presentation formats with interactive workshops, professional skills development opportunities, and thought-provoking activities to support current and future leaders in solving the world's complex water issues today and in the future.
WatIF
here.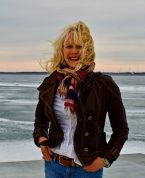 ---
Profile: Ph.D. student in the School of Environmental Studies since September 2018 whose research focuses on factors impacting sustainable and resilient water infrastructure in Canada's Indigenous communities while considering climate change and contaminants of emerging concern.
---
Profile: PhD Candidate in Civil Engineering since January 2018 whose focus is on near-real-time detection & quantification of indicator organisms for source water protection.
---

This Global Block does not have any content.