[cs_content][cs_element_section _id="1″ ][cs_element_row _id="2″ ][cs_element_column _id="3″ ][cs_element_global_block _id="4″ ][/cs_element_column][/cs_element_row][cs_element_row _id="5″ ][cs_element_column _id="6″ ][cs_element_text _id="7″ ][/cs_element_column][/cs_element_row][cs_element_row _id="8″ ][cs_element_column _id="9″ ][cs_element_text _id="10″ ][/cs_element_column][/cs_element_row][cs_element_row _id="11″ ][cs_element_column _id="12″ ][cs_element_image _id="13″ ][/cs_element_column][/cs_element_row][cs_element_row _id="14″ ][cs_element_column _id="15″ ][cs_element_text _id="16″ ][/cs_element_column][/cs_element_row][/cs_element_section][/cs_content][cs_content_seo]Graduate Diploma in Water and Human Health
About
Program Structure
Courses & Instructors
Application FAQ's
Program Sructure
The Water and Human Health Graduate Diploma consists of 4, single-semester, online courses which are offered over the course of a year. The length of the program aligns with the current 12- week structure of Queen's on campus semesters. Diploma graduates may ladder their 4-course credits into two types of Master's degrees at Queen's:
1) Research Based Thesis
2) Course-work based

Current students enrolled in a graduate program at Queen's may take Water and Human Health Courses, but are not eligible to receive the Diploma in addition to their chosen degree of study. At this time, graduates of the diploma can ladder to a MEng or MSc Degrees within the Department of Civil Engineering, the School of Environmental Studies and the Department of Geography and Planning. Students of the program can apply for promotion to Master's status prior to graduation or for admission with advanced standing within 5 years of graduating from the diploma.

For more information contact Dr. Geof Hall at gh26@queensu.ca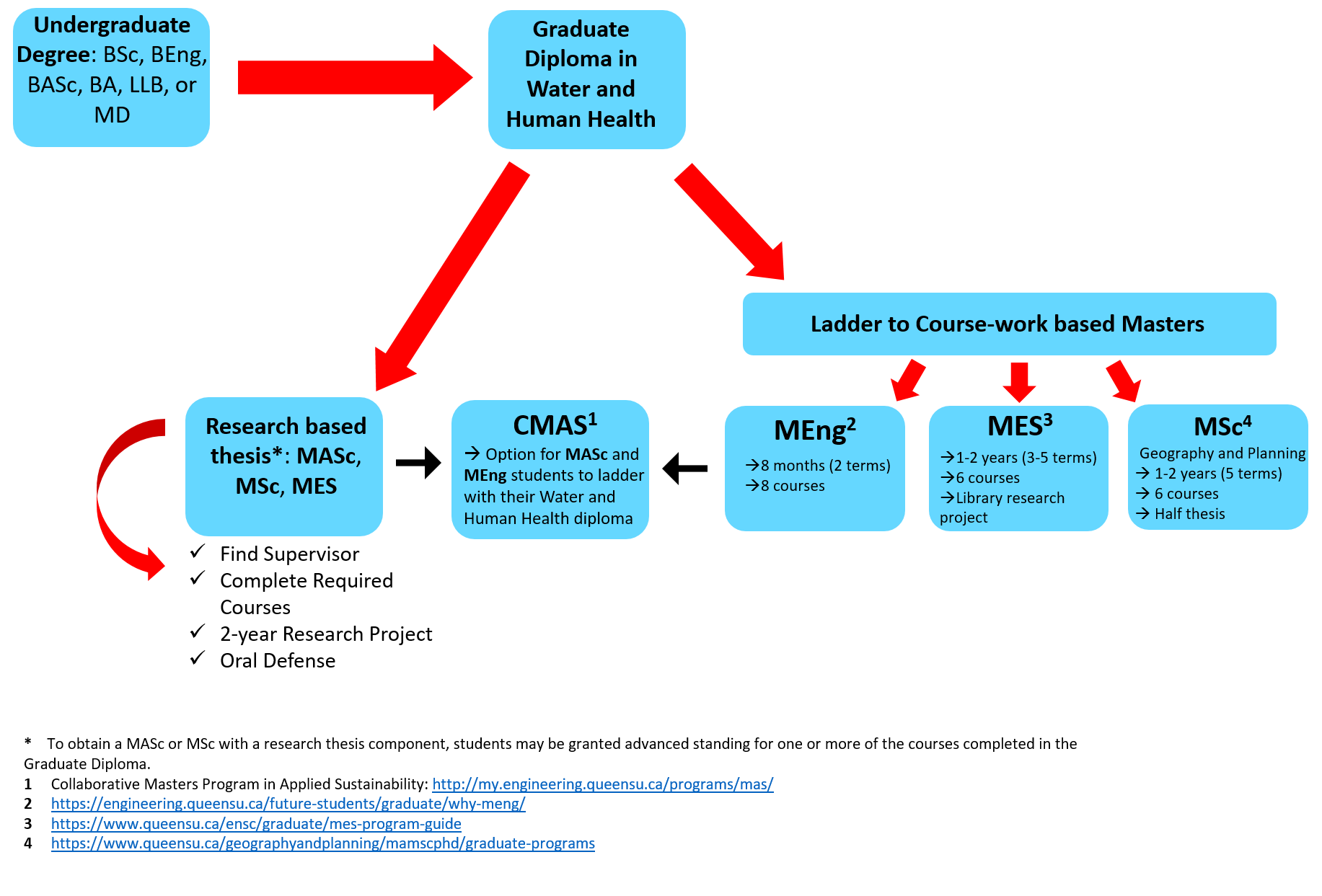 [/cs_content_seo]